Podcast: Play in new window | Download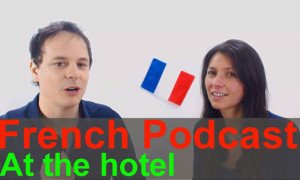 French Podcast. At the hotel
If you are learning French, it is very important to hear real life situations in French. In this French podcast, you are going to hear a dialogue between a tourist arriving at the hotel and the hotel receptionist.  Listen to it several times, you can download it to your computer or MP3 player too. Try to understand the dialogue of this French podcast, and try to repeat the sentences you understand.
After listening to this French podcast at least twice, you can listen to it while reading the transcript below.
The French podcast transcript:
– Bonjour, je peux vous aider ?
– Bonjour ! Nous avons réservé une chambre pour une semaine, pour deux personnes.
– Oui, au nom de… ?
– Au nom de Bellecoure.
– Oui, en effet, vous avez la chambre 234. Vous pouvez me donner un passeport s'il vous plaît ?
– Voilà.
– Merci. Vous avez des valises ?
– Oui, elles sont dans la voiture.
– Très bien, j'appelle une personne pour vous aider à porter les valises. L'ascenseur est là, juste au bout du couloir. Voici les clés. Le petit-déjeuner est servi à partir de sept heures et demie jusqu'à dix heures. Si vous avez besoin de quoi que ce soit, il vous suffit d'appeler le 1.1.1.
– Merci beaucoup !
– De rien, à bientôt !
French Podcast – translation
You can see the translations below to help you understand this French podcast.
– Hello, can I help you?
– Hello, I have a room booked for two persons, for one week.
-Yes, under the name of…
– Under the name Bellecoure.
-Yes, indeed, you have room 234. Can I have your passport please?
-Here it is.
-Thank you. Do you have any luggage?
-Yes, our luggage is in the car.
-OK, I'll call someone to help you get your luggage. The elevator is over there, at the end of the corridor. Here are your keys. Breakfast is served from 7:30 to 10 AM. If you need anything, just dial 1 1 1.
– Thank you very much!
-You are welcome. See you soon!
If you ever go to France, we hope this dialogue will be useful at your hotel!
You can also watch the video below.
Enjoy!
À bientôt !
Please subscribe to our YouTube channel for more videos like this one!
And follow us on Facebook!